What other jobs have you had in your life? When I left school in 1964 I was a bank clerk for two years. I joined a tyre company two years later and stayed there until I was awarded the DCM in 2000. (DCM standing for Don't Come Monday!)
While I was there I was a Cost Accountant, a Cost Investigation Manager and an Industrial Engineer.
If you could study any subject at university –what subject would you pick? History. I had planned to do that after school, but joined the bank instead so I remained local; this enabled me to follow my other passion, singing in groups all over England and Wales for a decade or so. Those stories are in my first book 'We'd Like to do A Number Now'.
If you could live anywhere in the world, where would it be? Santa Eulalia Del Rio, Ibiza, Spain. We visited it first in 1999 and have returned for a week's holiday every year since.
Tell us about your new book. What's it about and why did you write it? 'The Final Straw' explores the dilemma – could YOU love a stone-cold killer? An only child, unloved and unwanted by his parents, Colin Bailey is a bitter, emotionally damaged young man, hell bent on exacting revenge on anyone who has stopped him becoming the person he believes he was destined to be. What sets Colin apart is his intellect and meticulous planning. Detective Phil Hounsell pursues his man relentlessly, while trying to prevent the small town in which he works sliding further and further into the grip of two rival gangs.
A devastating event in Colin's life provides the final straw that herald's a bloodbath. Can Phil stop it happening or will he too be a victim?
Actually, I never set out to write this particular book! Without spoiling it for those who haven't read it yet, one of the victims was due to be the one and only casualty of Colin Bailey's act of revenge. I had an idea about eighteen months before for a story about a middle-aged guy who stalked a teenage girl on Facebook after she had blocked him. I did a lot of research on how this might be achieved, then wondered whether I should fill in the 'back-story' of his life first. As soon as I wrote the first line 'Colin Bailey was invisible' then 'The Final Straw' wrote itself! Spooky!
If you could have a dinner party and invite anyone alive or dead – who would you ask and why? Rory Gallagher, Jimi Hendrix, John Bonham and John Entwistle to discuss the forming of a supergroup
'Last Throw of the Dice' and try to convince them they needed another vocalist.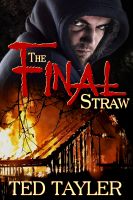 Buy Now @ Amazon & Amazon UK & Smashwords
Genre – Crime / Thriller
Rating – 18+
More details about the book
Connect with Ted Tayler on Twitter
Website http://www.tedtayler.co.uk/